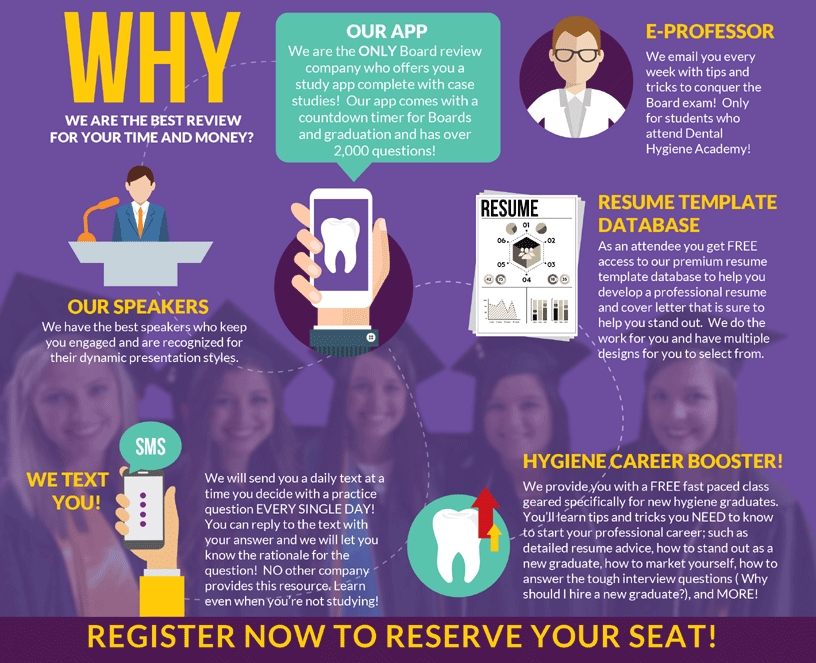 Dear Dental Hygiene Board Slayer!
Are you overwhelmed with taking and passing the National Board? Are you wondering what life will be like after graduating dental hygiene school, and how to start your career?
My name is AndyRDH, and I have been helping students conquer the National Board for over fifteen years! I've created multiple resources to help students just like you, and I know what it takes to be successful! I understand what is required to pass the National Dental Hygiene Board, and I make the transition from school into the 'real world' of dental hygiene effortless. I have developed Dental Hygiene Academy where we maintain a "Students First" motto that we will always have your best interest in mind. We want you to succeed in both passing the National Board and have long-term success as a Dental Hygiene Professional.
We know that there are other Board Review seminars out there, but Dental Hygiene Academy is different! We care about YOU and your future and want to see you succeed! Taking an online Board review or using a website to simply answer questions is not enough. We know how to leverage modern technology and content so students can maximize their study time both in person at the seminar, and when you leave the course. Our seminars are FUN! Our speakers will keep you engaged while they guide you through the material; focusing on the most relevant topics and information. You can also purchase awesome dental gear and even get the chance to WIN some free!
Read below to see why we are the ONLY board review you should choose!
Our DHA App: We are the ONLY Board review company who offers you a study app complete with case studies! Our app comes with a countdown timer for Boards and graduation and has over 2,000 review questions! We also have a Board score conversion that gives you an idea of what your score would convert to on the real Board. As long as you have your device, you can study anytime, anywhere!
BONUS: E-Professor: We will email you every week with tips and tricks to conquer the Board exam! This is exclusively for students who attend Dental Hygiene Academy!
BONUS: We Text You! We will send you a text message at a time you decide on with a practice question EVERY SINGLE DAY! You can reply to the text with your answer and you will receive a response that will include the correct answer and rationale for the question! NO other company provides this resource. Learn even when you're not studying! Start getting your daily text message question the day after your registration is processed! The sooner you register, the more practice questions you will receive!
BONUS: Hygiene Career Booster! – We provide you with a fast-paced class geared specifically for new hygiene graduates! This is the most important class that a new hygiene graduate can take, and we include it FREE with the seminar! You'll learn tips and tricks you NEED to know to start your professional career; such as how to stand out as a new graduate, how to market yourself, resume advice, how to answer tough interview questions like; "Why should I hire a new graduate?", and MORE!
BONUS: Resume Template Database! – As an attendee, you'll get FREE private access to our premium resume template database! This will help you develop a professional resume and cover letter that is sure to make you stand out! We do the work for you and have multiple designs to select from!
BONUS: Exclusive Facebook Group! – Upon registering for the seminar, gain access to our Facebook group made specifically for your seminar location. Meet, interact and connect with the students from other schools who will be at the same seminar with you!
Act Fast! Class size is limited and this review seminar and hygiene career booster class WILL sell out! Don't miss out on your chance to make one of the best investments for your future.